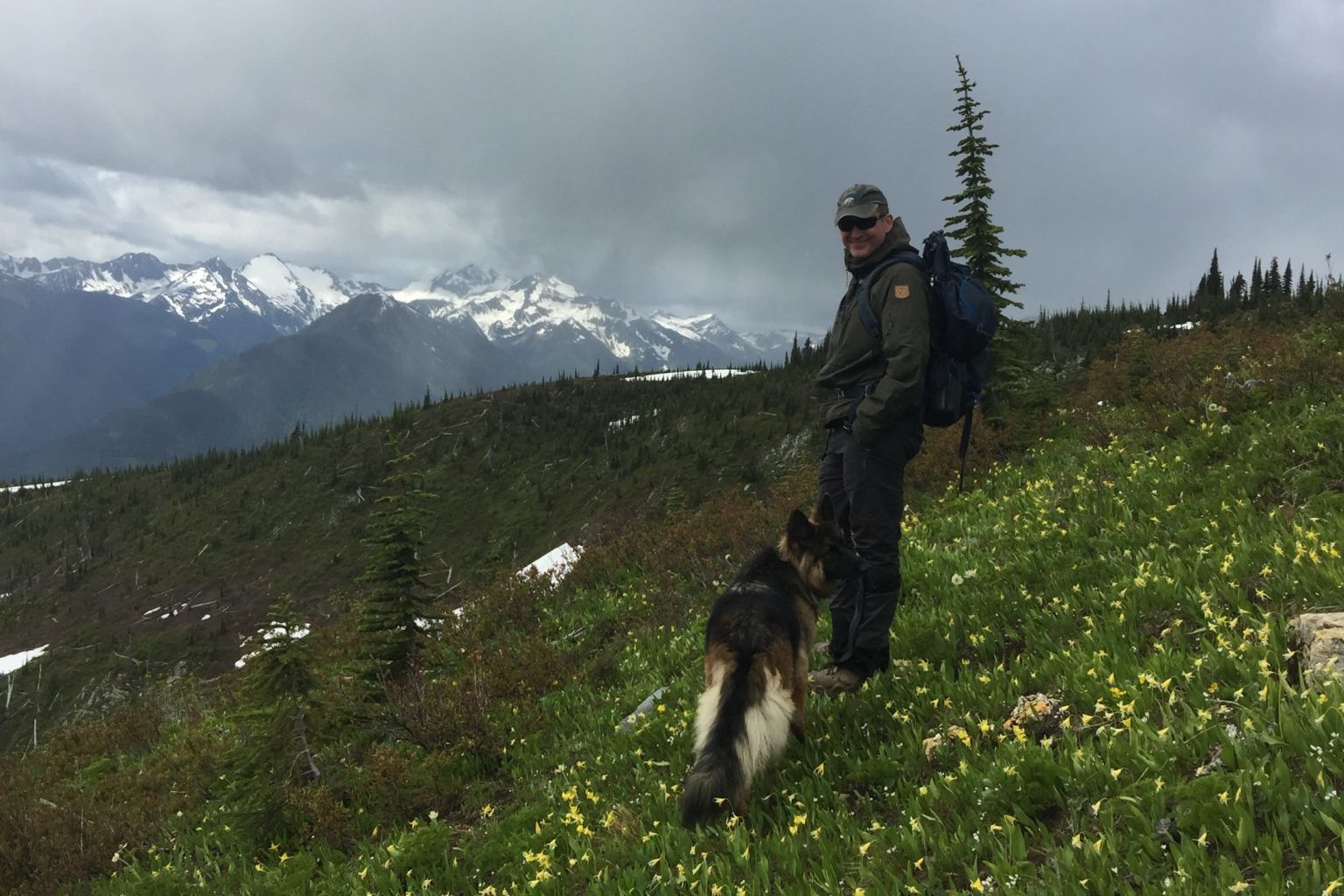 25 Jul

Back on the Mountain

For my post-Covid body, it was quite an ascent.

Two and a half thousand vertical feet, over stumps and logs, through brush and bush, and detouring around endless blowdown.

On my back was a punishingly heavy pack stuffed with tent, sleeping bag, food, clothing and an assortment of emergency gear.

By the time I reached the halfway mark of the climb my T-shirt was drenched in sweat, my lungs were burning, and my shoulders, pinched and sloping after months of sloth, were grumbling under the weight of all my clobber.

When we came to the steepest part of the climb I just wanted to turn around and go home. I opened my mouth to let out a swear word but instead sucked in a mosquito. My complaint died in a fit of coughing and spluttering.

In a year that has seen the world turned upside down by a virus smaller than a pinhead, I haven't had the easiest of runs.

Losing Kristin, my amazing wife and life-partner, to cancer in February, was absolutely devastating.

After that came a string of minor disasters, though none of them really moved the needle in comparison.

My own dance with Covid was not too dramatic – a few days of breathlessness and a few weeks of fatigue.

After I returned to British Columbia in late March, the planned season fell apart with Canada closing its borders, airlines cancelling their flights, and our poor guests incarcerated by various degrees of lockdown in their home countries.

As the crisis continued there were mind-numbing negotiations with credit card companies and banks, and bookings to be moved and cancelled.

As for so many in these times, my bank balance stopped fluctuating and began a slow remorseless slide towards the red.

Amidst all this came immeasurable and ongoing uncertainty. The tectonic plates of our globalised world were moving and no one seemed to know what was going to spew up next.

But when I finally crested the ridge that day on the mountain and laboured my way slowly to the high point, my legs now leaden with fatigue, for a few minutes it all just fell away.

Way down below the world might have been going through one of its periodic bouts of turmoil, but up here, it seemed, nothing had changed since the last Ice Age.

The glacier lilies, blanketing the hillside in their thousands, were no different, the snow clung to the slopes in patches as it always does, and the air was as fresh as the dew.

It could have been the year that Noah legged it in his ark, Attila stormed westwards with his Huns, or Columbus set off for the New World. As far as this little patch of sub-alpine was concerned it made no difference.

I stopped, eased my pack to the ground, and marvelled. And I knew that, despite it all, I was lucky.

We camped on the mountain that night – Kari and Emily, two friends, Sage, one of our long-standing and talented young guides, and Katya the dog.

And it was dramatic and memorable for all the right reasons. First lightning began to strike the peaks around and the wind picked up. Then a grizzly mum and two cubs came wandering into our campsite.

As it was getting dark we sipped one of Kristin's favourite single malt whiskies from a flask.

That night I brought Katya into my tiny tent. It was a bit more intimate than I ever wanted to be with a German Shepherd, but between the storm and the bears I was worried she would lose her doggie marbles if I left her outside.

For hours on end she stood alert above me and watched and sniffed. And then, when I was finally falling asleep, she sat down on top of me.

I would be lying if I said I had a good night's sleep. I had brought the wrong sleeping bag and by 3.00am I was aching with cold. Nor did the storms ever abate enough for the tent to stop flapping in the wind.

At one point I did wonder what the hell I was doing at my age, zipped up inside a piece of canvas at the top of a mountain in close embrace with a neurotic hound, when I could have been in a comfortable and dog-less bed.

But then when I awoke around 6.00am and stepped out of my tent it all suddenly made sense. In every direction I looked it seemed as if some celestial artist had contrived during the night to create a tableau of perfection.

Sun, clouds, snow, rock, glaciers, wildflowers.

And, in that moment, the world seemed just right.

In the last three weeks I have now been up three different mountain trails, each time with Katya, twice with Sage. It's becoming something of a weekend ritual.

And even if down in the valleys, five thousand feet below and far to the south, there are power boats, and kids and ice cream, on these trails I am yet to see another human footprint.

It has got me thinking. I will still be selling the lodge, or, at the very least, a majority stake in it. I made that decision when Kristin was ill and we talked it through.

After fifteen years it is time to pass the day-to-day management and a chunk of the responsibilities (and rewards) on to someone else.

But as time goes by I am becoming reluctant to cut ties with this little corner of the world altogether.

After more than a dozen years exploring these mountains – both on foot and from the air – I know many of them like the back of my hand.

The secret hidden spots of beauty and the ways of their wild inhabitants – bears, bobcats, beavers, lynx, cougars, wolves, moose and deer – have become part of my world.

This is the place where I found myself again after becoming trapped in a cul-de-sac of mental anguish after a decade on the world's frontlines. The place where I was offered a new chance at life with a woman I loved.

Graham and Sage – my incredible guiding team, more family, really, than employees – will both be staying on, and Kim, our cook, is keen to be back as soon as the guests can come. Mel and Cheryl, our long-time housekeepers, are waiting in the wings.

So, though the pain of losing Kristin still aches – and on some days is almost overwhelming – as time, that gentle but powerful healer, does its thing I am beginning to look at what my wife bequeathed me in a different light.

The many dozens of cards and hundreds of emails I have received have underlined just what a special place this is, and how it lives on in the memories of so many who have visited long after they return home.

And then there is the charity work: our programme for taking in wounded veterans, the campaigning for better conservation, the bear lobbying, and the science projects. Each of them adds a layer of richness and meaning.

Of course, life has a way of messing with the best-laid plans. I learned that this year, if nothing else, and I am loth to predict what comes next.

It may be there is no place for me in a new set-up at the lodge. And if a fresh couple take over, full of energy and ambition and with their own vision, I can live with that.

But whether as mentor, trainer, lobbyist, bear expert or even shameless promoter of the values of the wilderness, I might still have a role.

Much of what I once treasured is unchanged – the slate-grey mountains, the old-growth cedar-hemlock forests, and the pure thrill of sitting silently by the blue-green river on a cold autumn morning watching a grizzly bear fishing for salmon.

So come next year when the lodge opens for a new season, I have a sense that – while I may or may not be the captain of the ship – I will still be around. And that will be absolutely fine by me.